Authorized Cash Management Service (CMS)
The 'Digital India' is a great initiative to revolutionize conventional methods and integrate digital technology. It is enabling banks to provide solutions to corporate, which is triggering cashless mode of transaction. This has provided an unprecedented opportunity for corporate to digitizing their financial transactions and benchmark treasury management with the best-in-class practices.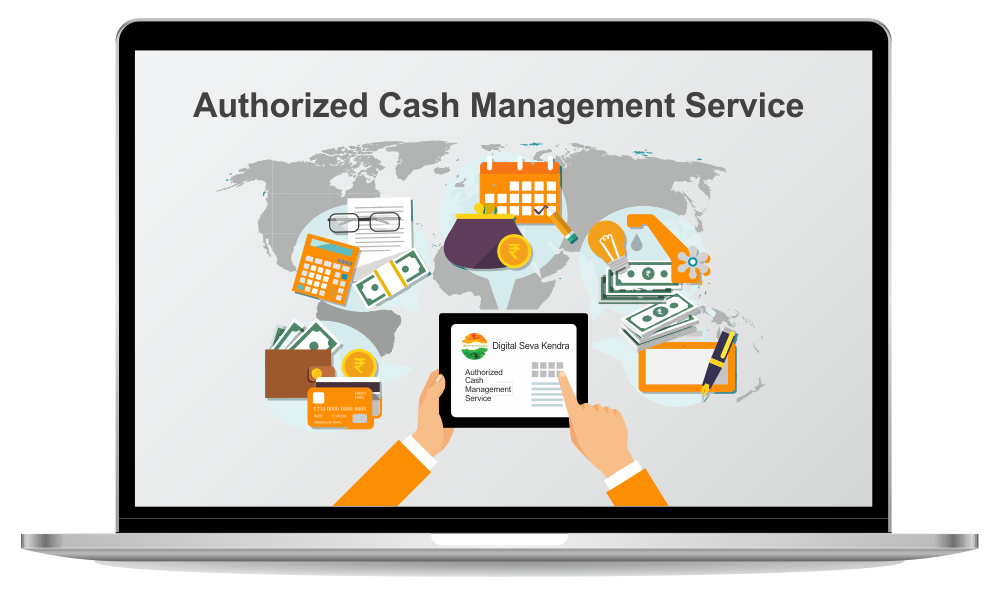 The state-of-the-art ROYALDO SERVICE POINT Cash Management Services is leveraging on this opportunity by bringing the benefits of this digital integration to its Corporate and customers. The product aims at creating a digital eco-system for the customers through a seamlessly connectivity with their customers, suppliers, employees, and revenue departments for the exchange of financial information and transactions.
The Cash Management System coupled with ROYALDO SERVICE POINT's unmatched branch network will enable the corporates to accelerate their receivables, enhance control over their payments and enable just-in-time funding.
The Cash Management Services (CMS) enables faster realization of funds and thus giving the ability to sell more while lowering need for working capital and knowing which invoices have got paid.
Cash Management Service (CMS) is now available at ROYALDO SERVICE POINT web portal, currently allow ROYALDO SERVICE POINT retailers to accept Payments of various billers. Now accept your Customer's Loan EMIs and get instant credit in their respective biller account. ROYALDO SERVICE POINT is providing attractive instant commissions on CMS service.
Cash Management System benefits the agent network in rural and semi-urban area to keep requisite cash within their outlets for cash out services. This added service would benefit the agent network in terms of earnings and make it possible to make cash easily available for the last mile of the society via the agents
–CMS Cash Pickup Services This system allows food aggregators such as Zomato and Swiggy to deposit their cash at nearby stores rather than travelling long distances to their respective hubs or banks. Additionally, the cash collected would assist partners like LnT Financial Services
Home Credit, BUNDL TECHNOLOGIES PRIVATE LIMITED, Swiggy, Zomato, DMI Finance, Margdarshak Financial Services, Xpressbess, Arohan, Hero Fincorp, SHRIRAM TRANS FINANCE COMPANY LTD, IDFC Hero Finco etc. in their EMI and cash collection business. The cash collected at theROYALDO SERVICE POINT-enabled stores will then be reflected in the bank accounts of these service providers via enablement done by ROYALDO SERVICE POINT and Airtel.